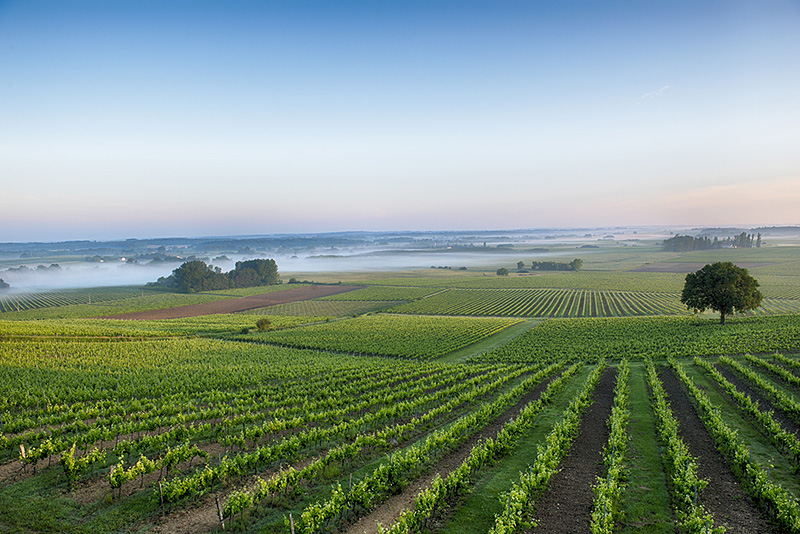 Château Roquefort is proud to be hosting the judges of the 5th Entre-deux-Mers Challenge on Friday, April 13, 2018. The Challenge – a competition open to wines from the whole Entre-deux-Mers region stretching between the Garonne and Dordogne rivers – is aimed at showcasing the variety and wealth of the region's terroirs and appellations. All five wine colours (dry whites, sweet whites, rosés or clairets, reds and crémants) are present across fifteen different appellations.
The know-how of our region's growers will be in the spotlight in a blind tasting conducted by a panel of qualified judges (oenologists, restaurateurs, négociants) – this year headed by David Cobbold, a wine expert, journalist and commentator, including on SudRadio.
The judges will give each participating vintage a score using a 100-point scale: for a score from 82 to 84, wines will win a silver medal and from 85 on up, wines will be awarded a gold medal. Based on the scores, a list of winners will be drawn up, featuring the best Entre-deux-Mers wines ready for drinking this year. In each colour category, the "Challenger 2018" title will be awarded to the gold medallist wine having received the highest score.
After a morning devoted to tasting and a lunch with perfect food-wine pairings, we're delighted to be taking all the judges on a tour of our estate. We are truly honoured to have been chosen as the host for this event that highlights our region's perfect balance between wine tourism, heritage, culture and bicycle touring – a region where the growers are great at welcoming visitors and sharing their passion for wine. We will be sure to keep you posted about the outcome of the Challenge!
We'd like to invite you to tour our estate and taste our latest vintages, too. Please feel free to give us a call at +33(0)556 239 748.