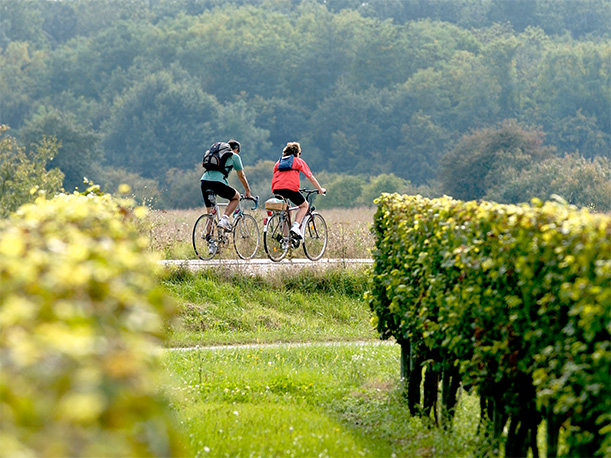 September is the perfect time to wind your way across our beautiful region on a bicycle. It is a season when the temperature is mild, the light is glorious and the vineyards laden with fruit are preparing for the harvest. Thanks to the Roger Lapébie cycle path, named after the winner of the 1937 Tour de France, bike fans and cycle tourism lovers can head out of Bordeaux towards Sauveterre-de-Guyenne.
More than 50km of paths crossing the most beautiful landscapes that Entre-Deux-Mers has to offer: after the St-Jean bridge, the cycle path runs alongside the Garonne as far as Latresne, then carves its way through fields and woods along the route of the former railway with restored levels, crossing huts and small railway stations. Head past Créon, a charming former fortified 'bastide' town, then take a detour to La Sauve to admire the old Abbey of La Sauve-Majeure. Next the path runs from Dardenac to Naujan-et-Postiac and on to Lugasson, passing less than a kilometre from Château Roquefort!
The perfect moment for a break to visit our estate and taste our wines before peddling on to Sauveterre-de-Guyenne and its central square lined with arcades, set in the heart of the former bastide-walled town dating from 1281. The Roger Lapébie cycle path is accessible to families and it is very easy to complete the route in sections. There are numerous bicycle rental shops, notably the Station Vélo in Créon which organises fantastic guided tours throughout the year. So if you want to keep your summer going a little longer, you know what to do… Be our guest!