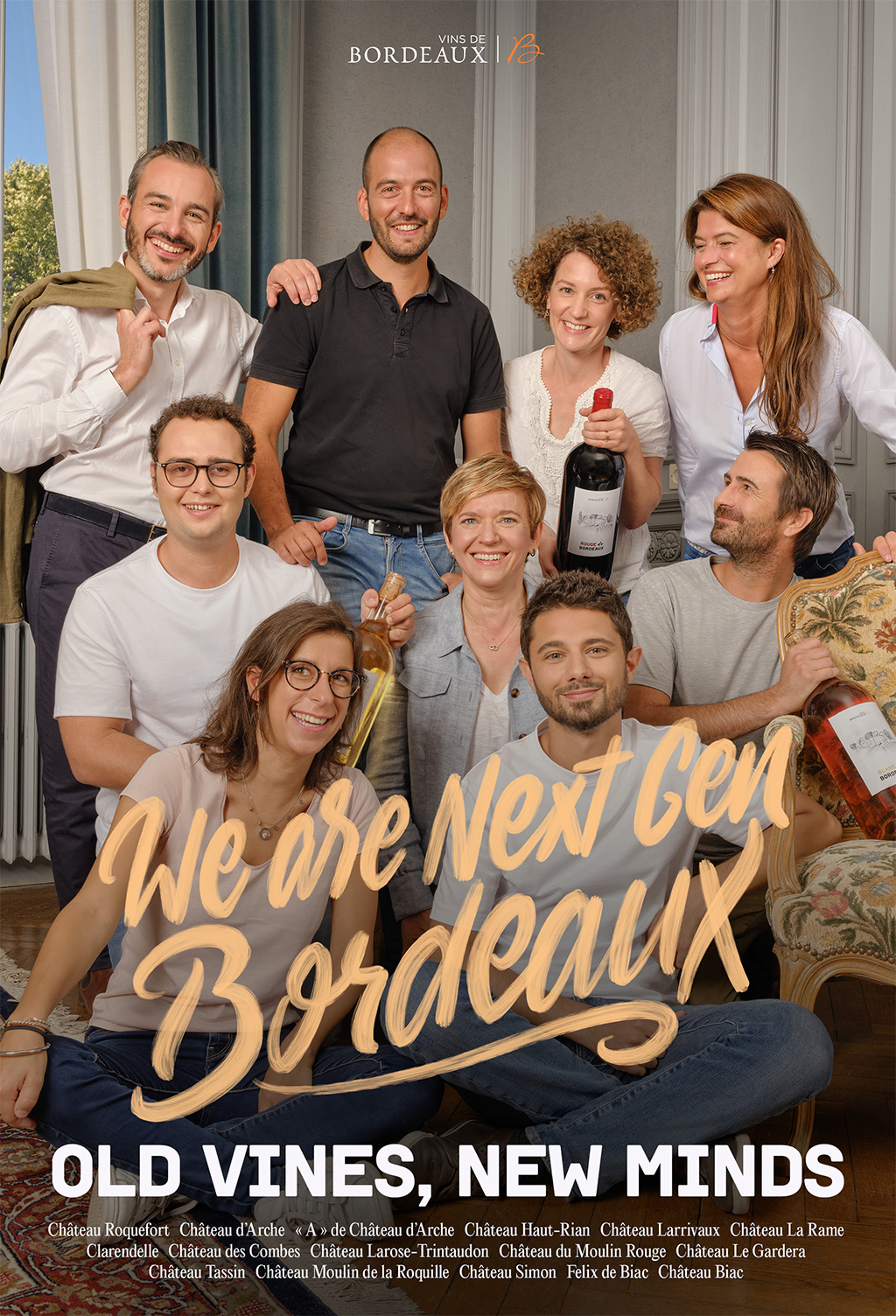 We are very happy to be part of the Bordeaux Next Generation winemakers that will showcase our collective talent this November throughout the NYC area: Launching November 1, the featured wines will be available by the glass in over 65 restaurants and wine bars, including Balthazar, Restaurant Daniel, and Loring Place, to name a few. Offered in a rare, double magnum size, the wines capture the artistry and depth of various Bordeaux appellations from many perspectives. NYC wine lovers can experience the evolution of Bordeaux wines by enjoying one glass of our Chateau Roquefort blanc at a time while supplies last.
And our commercial director, Camille Giai, had an interview with Inside Hook, the go-to news and luxury lifestyle recommendation platform for the affluent, on-the-go gent.
What do you think are some of the biggest strengths the Next Generation brings to the wine world?
I was recruited by the owners of the Château to bring a new perspective on how to create and market the wines of the property. We are proponents of a more modern style. Our ambition is to embody a new expression of Bordeaux — not in conflict with our history, but rather by offering an up-to-date version. For me, Bordeaux offers incredible terroir, leading technicians and facilities, know-how, a unique history, an extremely wide offering, and a leading ecosystem.
Tell us something wine drinkers would be surprised to learn about Bordeaux and the large-format wines you produce there.
I think wine consumers should take an interest in Bordeaux because this region offers incredible, often underestimated, pleasure-to-price ratios — The Wall Street Journal wine columnist Lettie Teague pointed this out earlier this year in her column. We were delighted to read that our classic white cuvée cited as one of her best values, a wine that really delivers pleasure. Our large bottles are an extremely limited series, exclusively produced for the American market to be served in New York restaurants "by the glass."
Can you talk a little bit about sustainability in your winemaking practices?
Preserving the environment has always been at the heart of the concerns of the Bellanger family, the owners of Château Roquefort. The property is home to a Natura 2000 classified area and preserved plant and animal species. We have been HVE3 certified since 2017. In 2020, we began converting the entire property to organic farming.
How do you see the region of Bordeaux changing in the next decade?
Bordeaux has so many assets to be successful. I think that the next decade will be an opportunity for Bordeaux to become a leader in a number of subjects: CSR, technical innovation, winetech, wine tourism. I also think that new signatures will emerge. For me, Bordeaux must rely on its strengths and innovate on certain subjects to become more attractive for consumers again. Innovation will involve a greater diversity of grape varieties, new packaging formats, a reorganization of production and the emergence of new appellations that bring value.
More to read on Inside Hook